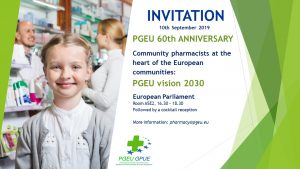 We are pleased to invite you to PGEU 60th Anniversary event "Community pharmacists at the hearth of the European communities: PGEU vision 2030" that will take place on 10 September 2019  in the European Parliament, Room A5E2, between 16.30 and 18.30, followed by a cocktail reception between 18.30 and 20.30.
You can register here.
For more information kindly contact pharmacy@pgeu.eu or +32 (0) 2 238 08 18.
We look forward to welcoming you at our event.