eHealth is more than a technology deployment; it is rather a commitment to a networked, patient-centred and accessible health care. While the new ICT solutions are continuously developed, and new applications and devices will continue to enter the market, the impact will be limited without strong commitment and leadership at European, national, regional and local levels, involving all the relevant stakeholders.
On the 17th of November 2016, the Pharmaceutical Group of the European Union approved a Statement on eHealth recommending (1) to engage with pharmacists as experienced users to develop eHealth policies and services at local, regional or national levels; (2) to integrate eHealth into health systems so it complements and supports existing practice; (3) link electronic health records with ePrescribing systems; (4) and improve communication and collaboration between patients, healthcare professionals and ICT developers to obtain the full potential of eHealth technologies and build confidence and trust.
Additionally an Annex of Best Practices from PGEU members was published (please see below).
•    161102E PGEU Statement on eHealth Final
•    161102E PGEU Statement on eHealth ANNEX Final
eHealth and European Policy
On behalf of European community pharmacists, PGEU has been involved in a number of consultations and initiatives at European level. In June 2014 in our response to the European Commission's "
Green Paper on mHealth
", PGEU called for better protection of data generated by mHealth apps and asked the Commission to develop Guidelines in connection with the lifestyle app/Medical Device distinction. Additionally, the PGEU called upon developers to ensure end users or facilitators of eHealth products (i.e. patients and healthcare professionals) are consulted during the design, evaluation and implementation phases to ensure they are fit for practice.
Key points from the PGEU's response to the 2014 Commission Green Paper on mHealth :
•    Public confidence in the protection of data key to successful deployment
•    This requires both data minimisation and robust approaches to the granting of consent by patients
•    The Commission needs to develop its work on Guidelines in connection with the lifestyle app/Medical Device distinction
•    Review processes for apps should be encouraged
•    A number of innovative mHealth solutions are being developed by community pharmacists across Europe
•    Clinical and cost effectiveness are essential
•    More work needs to be undertaken to better understand the barriers to implementation and take up of mHealth
EU eHealth Initiatives
PGEU has previously been a partner in the former EU eHealth Network Governance Initiative (eHGI) Joint Action, in particular contributing to the development of the Guidelines on ePrescriptions Dataset for Electronic Exchange under Cross-border Directive 2011/24/EU. The Guidelines on ePrescriptions continue to be revised in the new European eHealth Joint Action (JAesHN) and PGEU continues to follow this process with interest as a member of the European Commission's eHealth Stakeholder Group (eHSG).
eHealth and Pharmaceutical Care
Today, many pharmacists use eHealth tools on a daily basis, whether it is dispensing electronic prescriptions, checking for medication interactions when accessing electronic medication records, providing support for adherence via a mobile app or telephone call, or acting as the patient's entry point into the health system. eHealth tools used in community pharmacies can be considered under the following themes: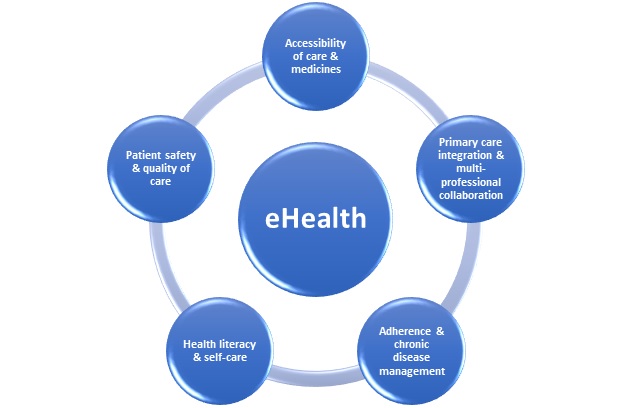 eHealth services and systems can act as a catalyst to the redesign of traditional health services and facilitate the implementation and development of innovative dispensing practices, pharmaceutical care and new pharmacy services. eHealth innovations have been identified as enablers of transition from traditional institutional-centred healthcare to a more patient-centred approach (3. Kuhn KA, Giuse DA, Lapão L, Wurst SHR. Expanding the scope of health information systems: From hospitals to regional networks, to national infrastructures, and beyond. Methods Inf. Med. 2007. p. 500–2.).