European community pharmacists are in the frontline in the fight against the novel coronavirus disease (COVID-19) and they are doing everything in their power to support their patients, including in areas currently in lockdown.
This pages provides insights in the roles and commitments of community pharmacists in the fight against COVID-19 and gives an overview of useful international and national resources for community pharmacists.
Insights from community pharmacists in the frontline
Thank you, pharmacists
THANK YOU to all community pharmacists across Europe for your vital work on the front line against COVID-19!
Your professionalism & commitment towards meeting patients' needs & maintaining continuity of services in these challenging times is incredibly important & appreciated.
Video: Thank you, pharmacies - The Portuguese National Association of Pharmacies ANF
Video: La Cruz Verde de la Farmacia no se apaga #Coronavirus - The General Council of Spanish Pharmacists
The life of Italian pharmacists in times of Coronavirus
Testimony of a community pharmacist working in the Bergamo province: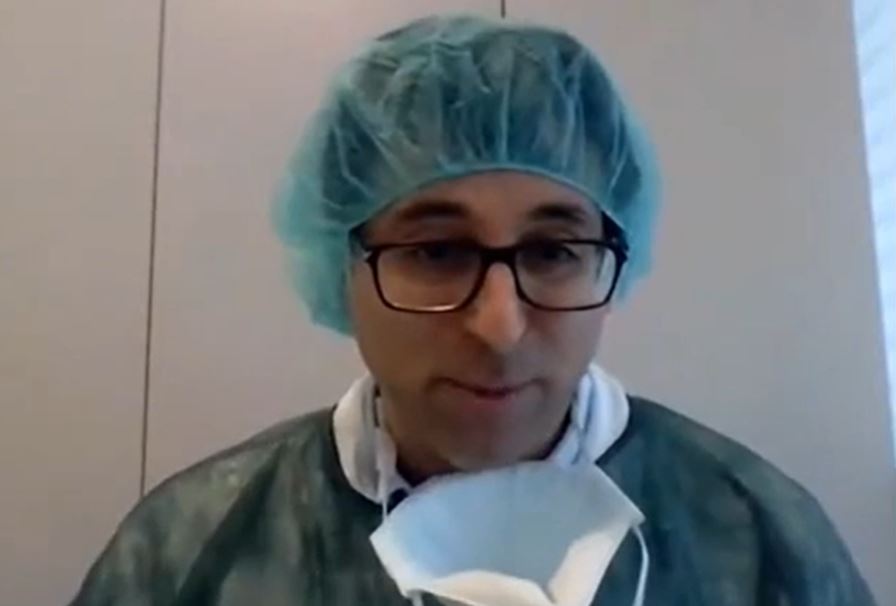 Watch the video
here
A heartbreaking story of an Italian pharmacist explaining the drama of having to refuse help to those who call for an emergency: almost all friends and relatives since Alzano Lombardo has just over 13 thousand inhabitants. «Sunday 8 March I worked the night shift and I had 42 calls for oxygen cylinders and I had zero cylinders. I'm not ashamed to say it but I've cried 42 times. They implored "What do I do with my husband, my grandfather, my father ... please help me", I didn't know what to answer, what to do, I had no way of helping them ".
He says it without any controversy, from the height of his eighteen years of experience in the Red Cross and with tears in his eyes when he thinks of his family, his daughter whom he hasn't seen for three weeks. «I do shifts that start at 7 in the morning and end late in the evening, I only see my daughter via Whatsapp, the same goes for my parents; I have the nightmare of being a vehicle of the virus to someone else. Here where I work, we all cry in secret, every day, in the morning when we open and in the evening when we go home. We try not to show each other to keep morale high but the situation is really difficult and people have not yet understood that they have to shut themselves up at home. "
Source
Interview with Federfarma president Marco Cossolo: 
Video: Interview with Federfarma President Marco Cossolo.
"There are currently no shortages of commonly used drugs in pharmacies. Thanks to the collaboration with the Italian Red Cross pharmacies are able to provide an advanced home delivery service for people who are not able to visit the pharmacy."
Home delivery of medicines:
Video: Pharmacy home delivery service made in collaboration with the Italian Red Cross
A look behind the counter of a Finnish pharmacy
In Finland, Porvoon Uusi Apteekki is one of the approximately 160.000 pharmacies in Europe working intensively on the frontline against the novel coronavirus COVID-19. The pharmacy was one the first to start compounding their own disinfecting hand gels in the pharmacy, and has been working tirelessly to support and protect their community.
"The amount of disinfectants we produce and dispense now is quite incomprehensible," explains Jari Hanski, pharmacist and owner of Porvoon Uusi Apteekki. Hanski estimates that about 70 liters of hand disinfectants are dispensed per day, although sales are limited. "If we didn't limit, the first customer of the day would surely take everything."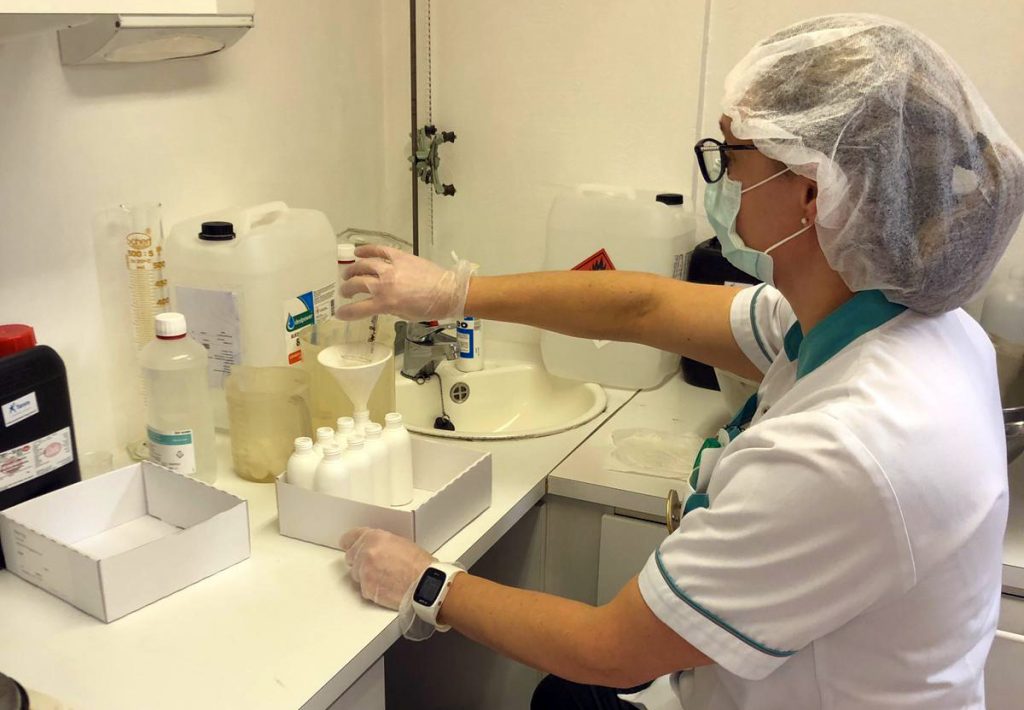 Pharmacist Pauliina Tanttu compounding hand disinfectants.
Over the last couple of weeks, pharmacies have been challenged not only with the high request for disinfectants, but also with the availability of common painkillers. But according to Hanski, there was no real panic either among the customers or the staff at the pharmacy, and people seem to be well aware of the situation now.
Since pharmacy staff meet hundreds of patients every day, while striving to ensure that both their clients and staff are safe, various precautions have been taken in pharmacies to reduce the risk of infection. At Porvoon Uusi Apteekki, the customer or his goods are not touched. Each employee also thinks about how the pharmacy moves and operates with its customers. The toys on display for the children have been collected and hand disinfectants have been placed at the disposal of customers, both at the pharmacy entrance and at the counter. Staff are instructed to wash their hands, and the main contact surfaces are cleaned every two hours.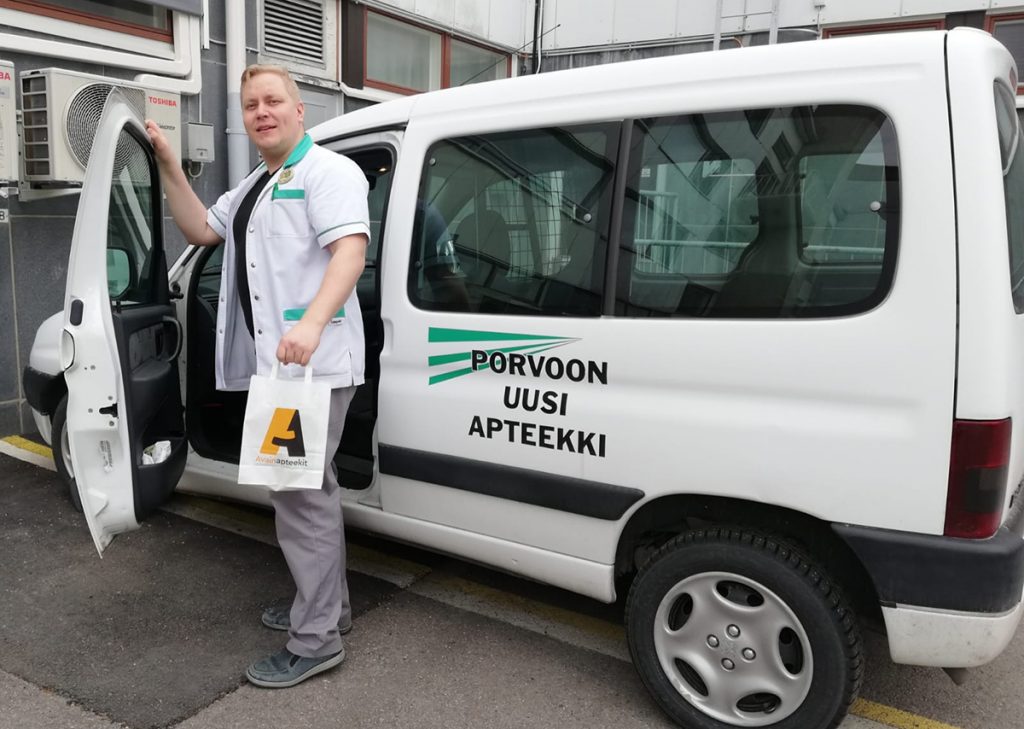 The pharmacy also offers home delivery of medicines, and the service has been used regularly.
The pharmacy staff is prepared for the worsening of the epidemic by dividing the whole group into two groups: Group A and Group B. The groups work on shift days, 12 hours at a time. This is to ensure that there is enough staff in the pharmacy, even if in one shift someone gets infected and falls ill.
"We are in constant contact with our customers, which increases the risk of infection. That's why we have split the eggs into two baskets. If someone becomes ill and the whole group is quarantined, we can still halve the other group and keep the pharmacy open with that group, "says Hanski. At weekends, the aim is to operate at a lower level of occupation, so that both groups also get occasional weekend vacations.
Read more
here
Scottish pharmacists empowered to help more patients during COVID-19 outbreak
The Scottish government announced that community pharmacists are to perform an enhanced role during the Coronavirus (COVID-19) outbreak.
Pharmacists will be able to support more patients, reducing the pressure on other parts of NHS Scotland through the extension of the Minor Ailment Service.
The Scottish Government has also accelerated plans to expand access to Emergency Care Summary (ECS) data, which mainly contains medication information, to pharmacists.
More than a thousand community pharmacies provide a range of NHS Pharmaceutical Care services on behalf of the NHS in Scotland.
Health Secretary Jeane Freeman said:
"The vital work of community pharmacies up and down the country is key in ensuring that we continue to reduce the burden across the NHS, and patients continue to get the necessary medicines they need to stay healthy.
"Many people visit a community pharmacy every day, with these numbers increasing in the current COVID-19 outbreak.
"This makes them the most accessible healthcare professionals on the front line of community health services, and a valuable resource to NHS Scotland.
"Strengthening the role of pharmacists, and easing some of the pressure from frontline NHS services, is therefore an important step in our wide ranging response to the current crisis."
Read more
here
Providing support to community pharmacists in the frontline
PGEU members have offered national governments their wide local pharmacies network to assist the health authorities in the dissemination of information to citizens on how to prevent the spread of the virus. They have launched a series of initiatives such as training for professionals and information material directed to the general public (e.g. infographics on the correct use of masks and on how to wash hands properly).
In order to support community pharmacists with their questions and doubts around COVID-19, PGEU members have also initiated several information tools for pharmacists such as pharmacy practice guidelines, FAQ documents, and call centers. More information and examples are provided in the National Resources section below.
This video explains an example from Portugal, where the Portuguese Pharmaceutical Society has initiated a free Pharmacy Support Line. More information is available
here
.
International Resources
International Pharmaceutical Federation (FIP)
European Centre for Disease Prevention and Control (ECDC)
Infographics and brochures:
World Health Organization (WHO)
European Commission
European Medicines Agency
OECD
National Resources
Austria
Belgium
Bulgaria
Croatia
Cyprus
Czech Republic
Denmark
Estonia
Finland
France
Germany 
Greece
Hungary 
Ireland
Italy
Latvia
Luxembourg
The Netherlands
North Macedonia
Norway
Poland
Portugal
Romania
Serbia
Slovak Republic
Slovenia
Spain
Sweden
Turkey
United Kingdom
Last update: 03 April 2020